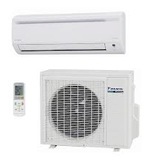 If you live in an older home with no ductwork, duct free systems may just be the solution you need – whether you want to cool one room or the whole house. Duct free air conditioners make your home's individual rooms or other small spaces more comfortable. Quieter, safer, and generally more energy efficient than window air conditioners, duct free (or ductless) split system are perfect for new room additions, garages, basements, sunrooms - wherever you need cool comfort. Remember, just like whole-home systems, the higher the SEER and HSPF ratings, the more efficient they will be.
Benefits Include:
Individual Control
Each indoor unit can be operated independently to deliver air comfort only to rooms where needed.
Energy and Cost Savings
Advanced inverter and heat pump technologies achieve greater efficiency and energy-savings at lower costs.
Flexible Installation
Daikin compact split/multi-split air conditioners easily install to residences where space is limited.
Extensive Product Lineup
A broad array of models allows the perfect match of style and performance to any interior space.
We offer a variety of duct free heating and cooling systems to meet any individual room's needs.
Ductless High Wall Indoor Heat Pumps

Daikin Ductless System LV Series Single Zone Wall-Mount Heat Pump
View Brochure
Model Family: FTXS**LVJU
Purpose: Heating and Cooling
Zone Capability: Single zone
Efficiency SEER: Up to 24.5 SEER
Efficiency EER: Up to 15.3 EER
Efficiency HSPF: Up to 12.5 HSPF
Matching Outdoor Unit: Single-Zone: RXS**LVJU
Matching Outdoor Unit: Multi-Zone: N/A
Energy Star Rated: ENERGY STAR®
Refrigerant Type: R-410A
Number of Fan Speeds: N/A
Sound Level: Quiet operation
Wireless Remote: N/A
Factory Warranty Parts: 12 Year Parts Warranty
Manufacturer's Stated Benefits:
Econo Mode function reduces operating current and power consumption by approximately 30% during start-up
Desired temperature quickly achieved with rapid cooling or heating via powerful operation
Precision temperature control for individual rooms

Daikin Ductless System 19 Series Single Zone Wall-Mount Heat Pump
View Brochure
Model Family: FTX**NMVJU
Purpose: Heating and Cooling
Zone Capability: Single zone
Efficiency SEER: Up to 19.0 SEER
Efficiency EER: Up to 12.5 EER
Efficiency HSPF: Up to 10 HSPF
Matching Outdoor Unit: Single-Zone: RX**NMVJU
Matching Outdoor Unit: Multi-Zone: N/A
Energy Star Rated: ENERGY STAR®
Refrigerant Type: R-410A
Number of Fan Speeds: N/A
Sound Level: Quiet operation
Wireless Remote: Yes
Factory Warranty Parts: 12 Year Limited Parts Warranty
Manufacturer's Stated Benefits:
Econo Mode function reduces operating current and power consumption by approximately 30% during startup
Effective heating and cooling throughout the room via wide-angle louvers and vertical auto-swing function
Precision temperature control for individual rooms
Econo-mode decreases power consumption when other appliances need more power
Titanium Apatitie air-purifying filter
Refrigerant leakage detection
Wide-angle louvers
Vertical auto-swing
Automatic operation with auto-restart
Auto-fan speed
Wipe-clean flat pane
Comfort mode
Self-diagnosis with digital display
Anti-corrosion treatment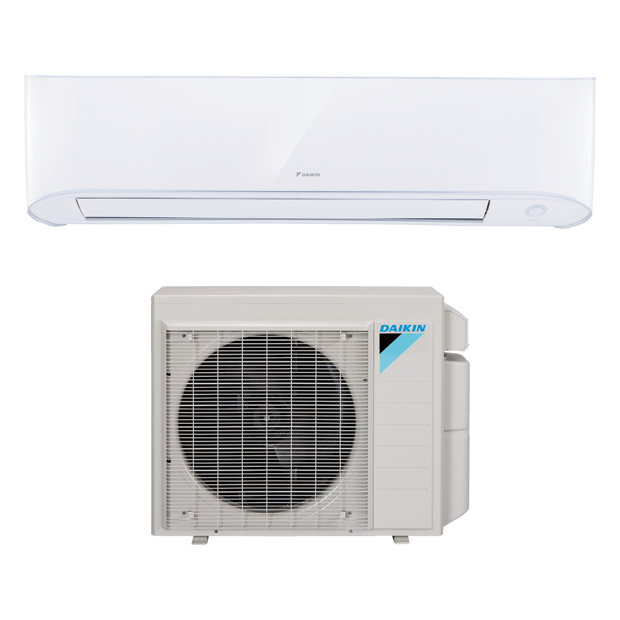 Daikin 17 series Single Zone Wall-Mounted Heat Pump
View Brochure
Model Family: FTXB**AXVJU
Purpose: Heat and Cool
Zone Capability: Single zone
Efficiency SEER: Up to 17 SEER
Efficiency EER: 11.5 EER
Efficiency HSPF: 9 HSPF
Matching Outdoor Unit: Single-Zone: RKB**AXVJU
Matching Outdoor Unit: Multi-Zone: N/A
Energy Star Rated: No
Refrigerant Type: R-410A
Number of Fan Speeds: 5 Steps, Quiet, Auto
Sound Level: 22 dB indoor unit 46 dB outdoor unit
Wireless Remote: Yes
Factory Warranty Parts: 10-Year Parts Limited Warranty
Manufacturer's Stated Benefits:
Powerful Operation Mode
Auto Changeover
Self-Diagnostics with Digital Display
Auto-Restart after Power Failure
Quick warming function (Heat Pump)
Automatic defrosting (Heat Pump)
Ductless High Wall Indoor Air Conditioners

Ductless System 19 Series Single Zone Wall-Mount Cooling only
View Brochure
Model Family: FTK**NMVJU
Purpose: Cooling
Zone Capability: Single zone
Efficiency SEER: Up to 19 SEER
Efficiency EER: Up to 12.5 EER
Matching Outdoor Unit: Single-Zone: RK**NMVJU
Matching Outdoor Unit: Multi-Zone: N/A
Energy Star Rated: ENERGY STAR®
Refrigerant Type: R-410A
Number of Fan Speeds: N/A
Sound Level: Quiet operation
Wireless Remote: Yes
Factory Warranty Parts: 12 Year Parts Limited Warranty
Manufacturer's Stated Benefits:
Program Dry Function
Econo Mode
Powerful Operation Mode
Auto Fan Speed Control
Auto Restart after power failure
Self-Diagnostics with digital display
Washable Air Filter